~☆ENGLISH☆~ One Room Sugar Life Cover ☆Happy Sugar Life☆
My English cover of One Room Sugar Life , originally performed by Nanawo Akari. I don't own ANYTHING except my voice. Please support the original artist.
~☆~
~☆Original upload date: October 31st, 2018☆~
~☆~
hAPpY sPOopY dAY!
So my good friends Malina Rose and Vocalina made an English fandub of the first episode of Happy Sugar Life and they asked me to cover the opening for them!! Thank you so much for letting me cover the OP, it was quite the challenge but very fun to sing!
Happy Sugar Life is honestly one of the best horror anime I've ever seen and I actually really like Satou and Shio (I see their love as a platonic kind of love because otherwise that would be a biiit too much). It's a really great choice if you're looking for a horror anime to watch!
Here's the link to the fandub if you want to watch it!
https://youtu.be/2hTklRkkXF4
I hope you enjoy my cover! :)
~☆~
Credits:
☆Vocals and video: CurePlum (me!)
☆English Lyrics: Vocalina
https://www.youtube.com/channel/UCfY9
...
☆Mix: Malina Rose
https://www.youtube.com/channel/UCIgg
...
☆Original translation: Pizza EX
https://www.youtube.com/channel/UCFrm
...
☆Instrumental:
https://www.youtube.com/watch?v=DEGyo
...
~☆DOWNLOAD LINK☆~
https://drive.google.com/file/d/1z6md
...
NOTE: If you want to use my cover for a project/another YouTube video, please message me a request to do so BEFORE using it.
~☆~
Lyrics by Vocalina. PLEASE GIVE CREDIT!!
My feelings are sparkling
Right now they are glimmering
My entire world revolves around you
This world made out of sugar
Turned into lies of bitter
It's only about the two of us
The rest can disappear
The point behind love is nowhere to be found
The outside world is filled with discommunication
Love is hidden deep within my heart
I won't let anyone see that part
I love you
This is new
Nothing will stain this feeling, yeah it's true
All the angels nor the devils knew
That their whispering words wouldn't seep through
My uniform hidden out of view
Concealing this dull beat, say adieu
Both you and I, let's escape out the blue
I know that "forever" is only in dreams
But will you always stay with me?
My feelings are sparkling
Your smile is shimmering
'Cause of you I know that this is the real me
This world made out of sugar
Wants to be lies of bitter
None of it matters to me because
I want just you
Say wow! (Wow!)
Smiling emotions
All these gray feelings
I don't need those now
With love (Love!)
Singing from this room brings it to a bloom
Deep inside me I hope the light consumes
I'll surely find the things that are unknown to you
So you won't face this world that's askew
Let's run away from this place and start anew
~☆~
Follow me if you want to!
~☆My Twitter☆~
https://twitter.com/plumthemawile
~☆ More about me ☆~
https://cureplum.carrd.co
~☆ My SoundCloud ☆ ~
https://soundcloud.com/cureplum
~☆~
Copyright Disclaimer Under Section 107 of the Copyright Act 1976, allowance is made for "fair use" for purposes such as criticism, comment, news reporting, teaching, scholarship, and research. Fair use is a use permitted by copyright statute that might otherwise be infringing. Non-profit, educational or personal use tips the balance in favor of fair use.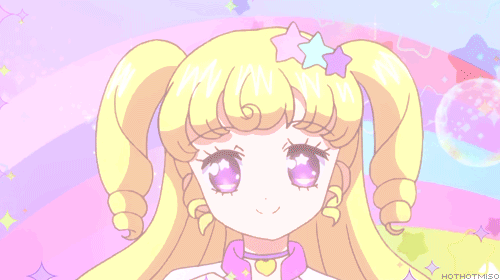 Hello and welcome to my blog!! Here I'll be posting updates for you as well as probably some ramblings from my daily life~ 
I'm a 19 year old girl with a strong love for cute things as well as idols and magical girls. I sing and voice act too! I'm especially into Precure, Love Live, Pripara, Aikatsu, Bandori and Vocaloid!

I started posting covers on YouTube back in 2016 and slowly but surely started to become more active in the anisong/youtaite/voice acting community over time. However with the upcoming changes potentially affecting YouTube in the near future, I found that the platform has become no longer viable to post what I enjoy doing most. Therefore, I have moved to both here and Soundcloud!!

I'll be posting my covers and other stuff both here and on Soundcloud!! I may not have much up at the moment, but I'll be planning to reupload my past covers onto here as well as new stuff! I hope you look forward to it!

See ya next time~☆
~☆ About me ☆~
Hi! My name is Plum! I'm a vocalist and VA and I love magical girls and idols. I also really love cute pastel stuff. I plan to be active both on here and on Soundcloud as well as YouTube, if everything ends up being fine there. I also plan to post blog updates and more!

I hope you enjoy my channel!
Country
Canada
More About
☆Vocalist☆VA☆Magical Girl☆